Gazprom Nedra LLC held meetings with representatives of the communities of the indigenous small-numbered peoples of the North of the
September 14, 2021 00:00
On September 9, a delegation from Gazprom Nedra LLC visited a number of camps of indigenous small-numbered peoples of the North (ISNPN) leading a traditional lifestyle near production facilities on the territory of the Tambeyskoe field (Yamalo-Nenets Autonomous Okrug). The trip was also attended by representatives of municipalities and public organisations of the indigenous small-numbered peoples of the Yamal District.
The event was organised by the Company in accordance with the agreements reached in April 2021 at the meeting held in the village of Yar-Sale, where the parties signed an additional agreement on socio-economic cooperation.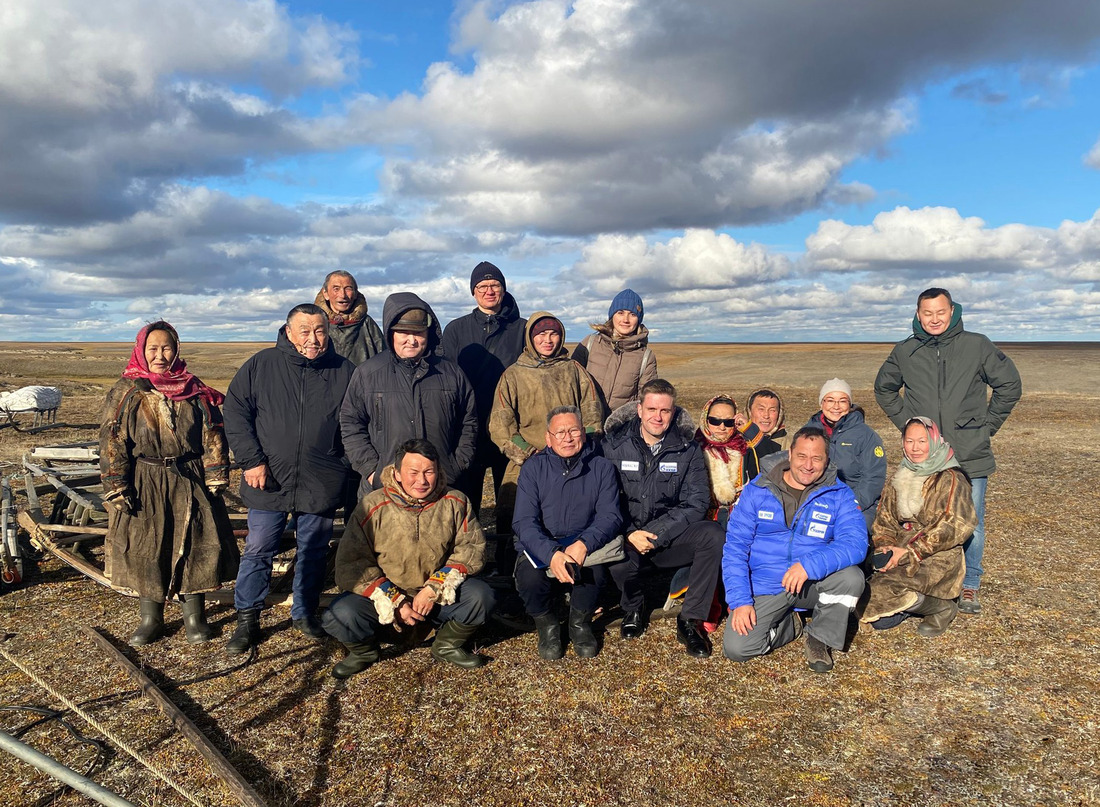 Public discussion participants
"It is very important for us that when planning the production activities of companies, the voice of the indigenous population of the Yamal tundra is heard. Therefore, in the course of public hearings, we include in the minutes a recommendation to hold personal meetings between subsoil users and residents of the camps. Informing the tundra people about the Company's plans and exchanging views between the parties is a guarantee of their peaceful coexistence in the conditions of industrial development of the North", — commented Valery Khudi, Chairman of the Board of the Yamal District Public Movement of Indigenous Small-Numbered Peoples of the North "Yamal".
"Subsoil use is a complex, multifactorial process, one of the key areas of which is building an effective partnership with government officials and local residents in the regions where exploration and development of deposits is carried out. This is especially important where there are traditional farming territories of the indigenous small-numbered peoples of the North. Over the years of work in the northernmost points of the Yamal Peninsula, we have amassed impressive experience interacting with people who call the Arctic their home. This allows all emerging issues to be resolved through an open, respectful and constructive dialogue", — said Vsevolod Cherepanov, General Director of Gazprom Nedra LLC.
Reference

Gazprom Nedra LLC is a 100 % subsidiary company of PAO Gazprom and ranks among the major Russian multi-business oil and gas service companies. In 2019 Company production potential was expanded due to integration of Gazprom Georesurs LLC and Gazprom Geologorazvedka LLC assets.
The Company carries out a complete centrally managed cycle of exploration works in the RF and provides its clients with a wide range of unique geophysical and geoengineering services.
Gazprom Nedra LLC is the main source of Gazprom Group geophysical data in the sphere of raw materials production, reduction of operational expenses and geophysical activities efficiency evaluation, calculation of gas deposit and storage reserves, and environmental safety assurance.
Company subdivisions are located in all gas producing regions of Russia. Its staff totals over 4,500 people. Company administration offices are located in Moscow and Tyumen. The Company uses a 
quality management system
based on the GOST ISO 9001 standard, a health and safety management system in accordance with ISO45001 and an environmental management system which meets the requirements of the international standard ISO 14001:2015 (GOST R ISO 14001).