Gazprom Nedra Representatives Took Part in the Yamal Arctic Oil & Gas Forum
July 2, 2021 00:00
Oksana Bugriy, Deputy General Director for Prospective Development of Gazprom Nedra LLC, spoke at the session "Peculiarities of Production and Processing of Hydrocarbons in the Far North". She gave the presentation "Conceptual Proposals for the Preparation of a Hydrocarbon Resource Base for Fuel and Energy Support for the Life of the Basic Facilities, Population and Enterprises of the Arctic Coast along the Northern Sea Route".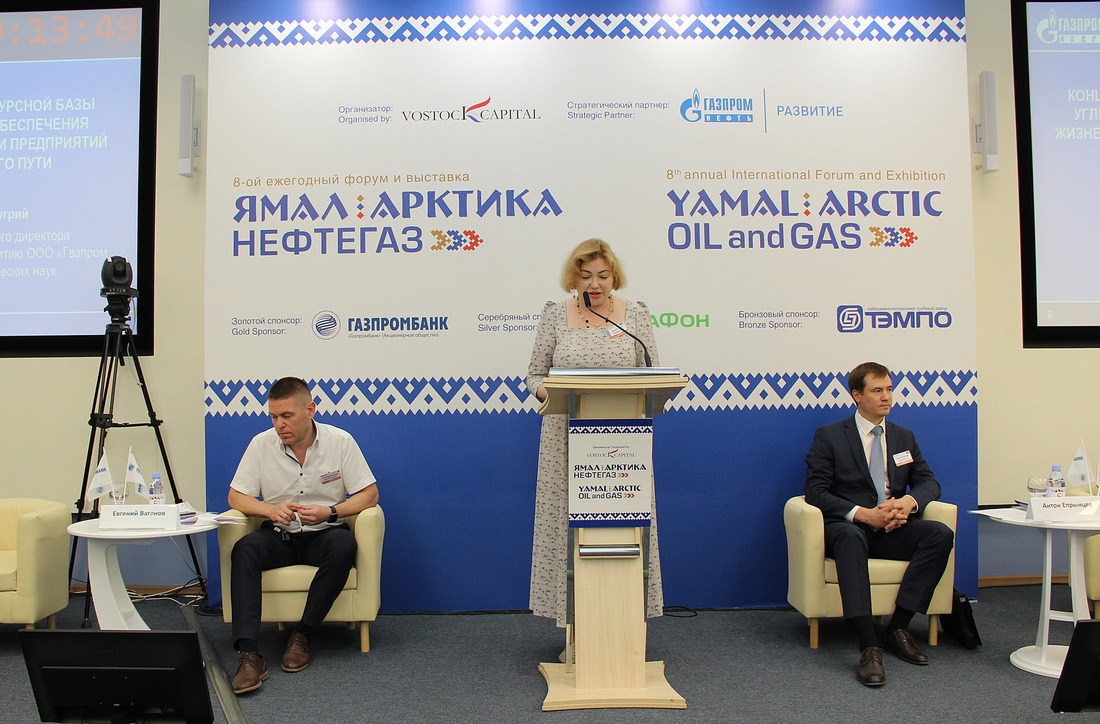 Oksana Bugriy gives a presentation
The speaker emphasised that according to the decree of the President of the Russian Federation "On the Foundations of the State Policy of the Russian Federation in the Arctic for the Period up to 2035", the use of the Northern Sea Route as a single transport communication is one of Russia's main national interests in this region. In 2020, cargo turnover along the Northern Sea Route increased by almost 5 %, and in the future, a manifold increase in the intensity of cargo transportation is expected, associated with the implementation of industrial and production projects.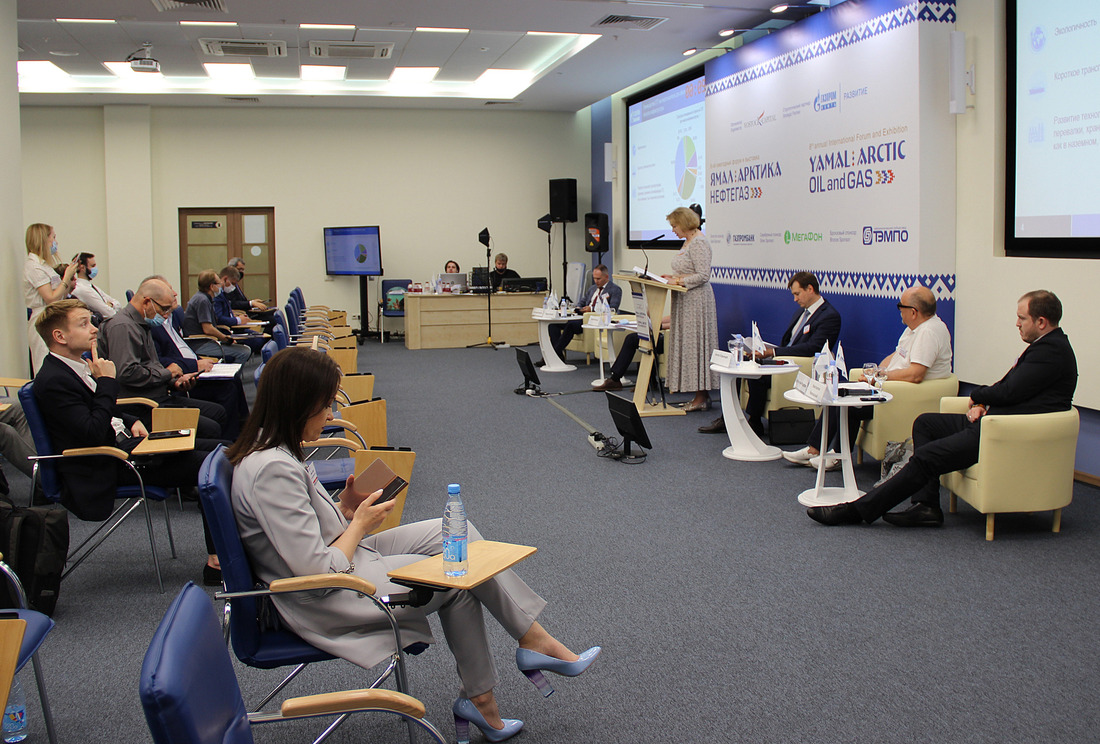 Work of the session "Peculiarities of Production and Processing of Hydrocarbons in the Far North"
Deputy General Director of Gazprom Nedra LLC spoke about the resource potential of the Yamalo-Nenets Autonomous Okrug (YNAO) and adjacent water areas, including the part related to PJSC Gazprom. Its free gas reserves are concentrated in 33 fields. The ongoing and planned exploration work in the region is focused on additional exploration of the Achimov and Lower Middle Jurassic deposits in the deep horizons of unique fields: Urengoyskoe, Yamburgskoe, Bovanenkovskoe and a number of others. Supra-Cenomanian deposits at Medvezhye, Yamburgskoe, Zapolyarnoe and other fields are also of considerable interest. The prospects for the recently acquired areas (Sopochniy, Vostochno-Bovanenkovskiy) will be associated with the search for deposits in a wide stratigraphic range from the Cenomanian to the Jurassic.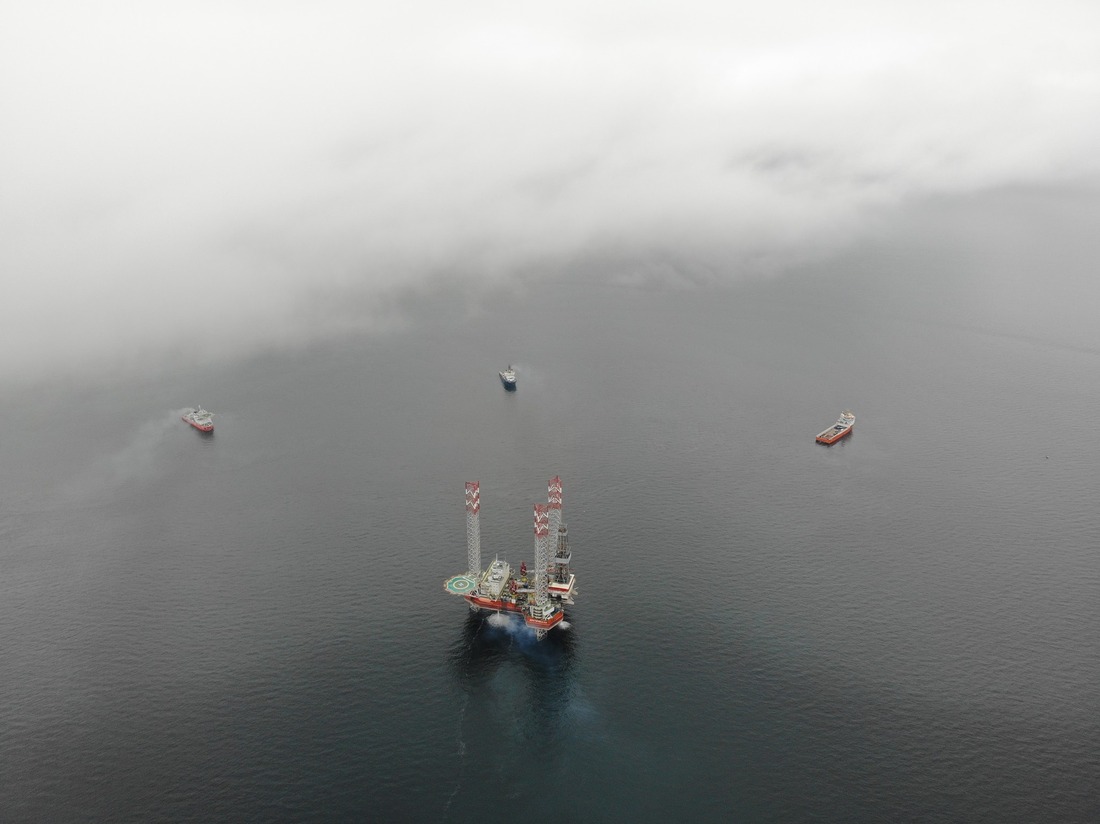 Borehole construction on the Priyamal Shelf
Reference

Gazprom Nedra LLC is a 100 % subsidiary company of PAO Gazprom and ranks among the major Russian multi-business oil and gas service companies. In 2019 Company production potential was expanded due to integration of Gazprom Georesurs LLC and Gazprom Geologorazvedka LLC assets.
The Company carries out a complete centrally managed cycle of exploration works in the RF and provides its clients with a wide range of unique geophysical and geoengineering services.
Gazprom Nedra LLC is the main source of Gazprom Group geophysical data in the sphere of raw materials production, reduction of operational expenses and geophysical activities efficiency evaluation, calculation of gas deposit and storage reserves, and environmental safety assurance.
Company subdivisions are located in all gas producing regions of Russia. Its staff totals over 4,500 people. Company administration offices are located in Moscow and Tyumen. The Company uses a 
quality management system
based on the GOST ISO 9001 standard, a health and safety management system in accordance with ISO45001 and an environmental management system which meets the requirements of the international standard ISO 14001:2015 (GOST R ISO 14001).