Gazprom Nedra LLC patented a method to safely transport large icebergs
Gazprom Nedra LLC received a patent for invention of an ice objects transportation method that ensures safe operation of fixed and floating production complexes in Arctic seas.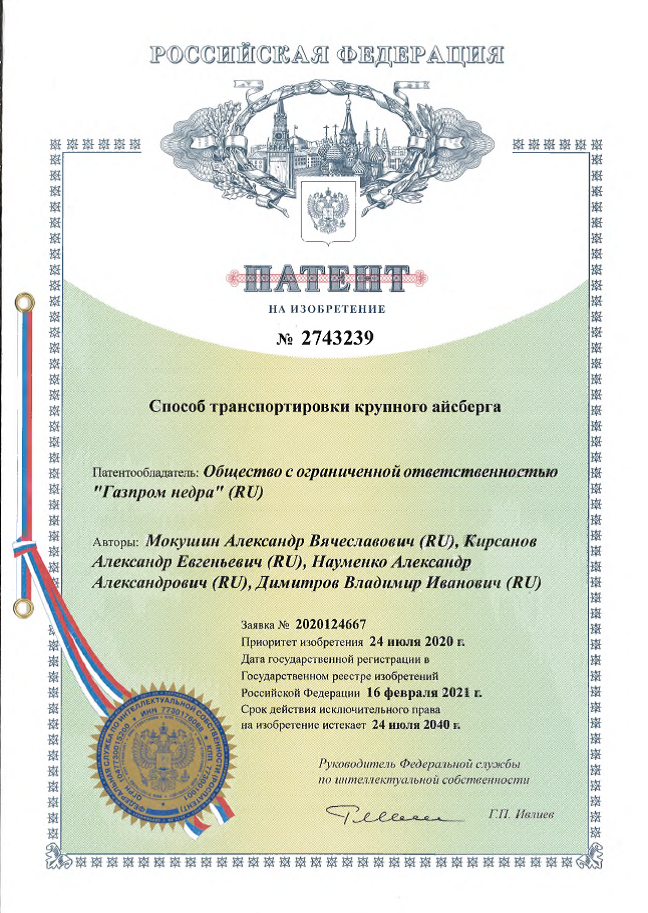 Authors of the invention proposed an engineering solution which increases the reliability of large iceberg transportation and prevents the possibility of its lean on floating drilling rig in water areas of higher iceberg risk.
According to the patent for the invention, two transport tug vessels are positioned "stern to stern" opposite iceberg drift direction and connected to each other at a safe distance with the use of high-strength steel towing cables via a joining shackle. Indicating buoys of different colours identifying joining shackle immersion depth are fixed to the shackle in line height-wise on a single halyard. After, iceberg embracing vessels tug it over a single course in parallel to each other at a safe distance, at that iceberg movement parameters are tracked.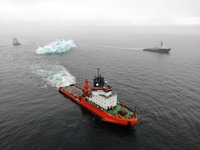 Vessels tug an iceberg over a single course in parallel to each other at a safe distance
This iceberg transportation method provides for the use of vessels with standard towing equipment which significantly reduces expenses for lease of special equipment for towing large ice objects.
Vsevolod Cherepanov, Gazprom Nedra LLC General Director, noted that "as opposed to the currently used ice objects transportation methods, the new one allows for transporting icebergs weighing over 1 mln. tonnes. The invention of our company employees will significantly increase safety of floating rigs operation in the Arctic Region".
Reference

Gazprom Nedra LLC is a 100 % subsidiary company of PAO Gazprom and ranks among the major Russian multi-business oil and gas service companies. In 2019 Company production potential was expanded due to integration of Gazprom Georesurs LLC and Gazprom Geologorazvedka LLC assets.
The Company carries out a complete centrally managed cycle of exploration works in the RF and provides its clients with a wide range of unique geophysical and geoengineering services.
Gazprom Nedra LLC is the main source of Gazprom Group geophysical data in the sphere of raw materials production, reduction of operational expenses and geophysical activities efficiency evaluation, calculation of gas deposit and storage reserves, and environmental safety assurance.
Company subdivisions are located in all gas producing regions of Russia. Its staff totals over 4,500 people. Company administration offices are located in Moscow and Tyumen.
The Company uses a 

quality management system

based on the GOST ISO 9001 standard, a health and safety management system in accordance with ISO45001 and an environmental management system which meets the requirements of the international standard ISO 14001:2015 (GOST R ISO 14001).