Another six Gazprom Nedra LLC employees have been given the title of "Discoverer of Mineral Deposit"
By Order of the Ministry of Natural Resources and Environment of the Russian Federation dated February 9, 2021, a number of employees of Gazprom Nedra LLC Directorate of Geological Explorations on the Shelf were distinguished with awards for discovery and exploration of the V. А. Dinkov Field at the Kara Sea Shelf.
Vladislav Khoshtaria, Head of Department, Anton Martin and Ivan Natashkin, his Deputies for Geology and Drilling, Sergey Kurdin, Head of the Geological Department on Shelf Projects and his Deputy for Geology Sergey Dmitriev, and also Nikita Rybin, Head of the Geophysical Works and Surveys Department were awarded with the badges "Discoverer of Mineral Deposit".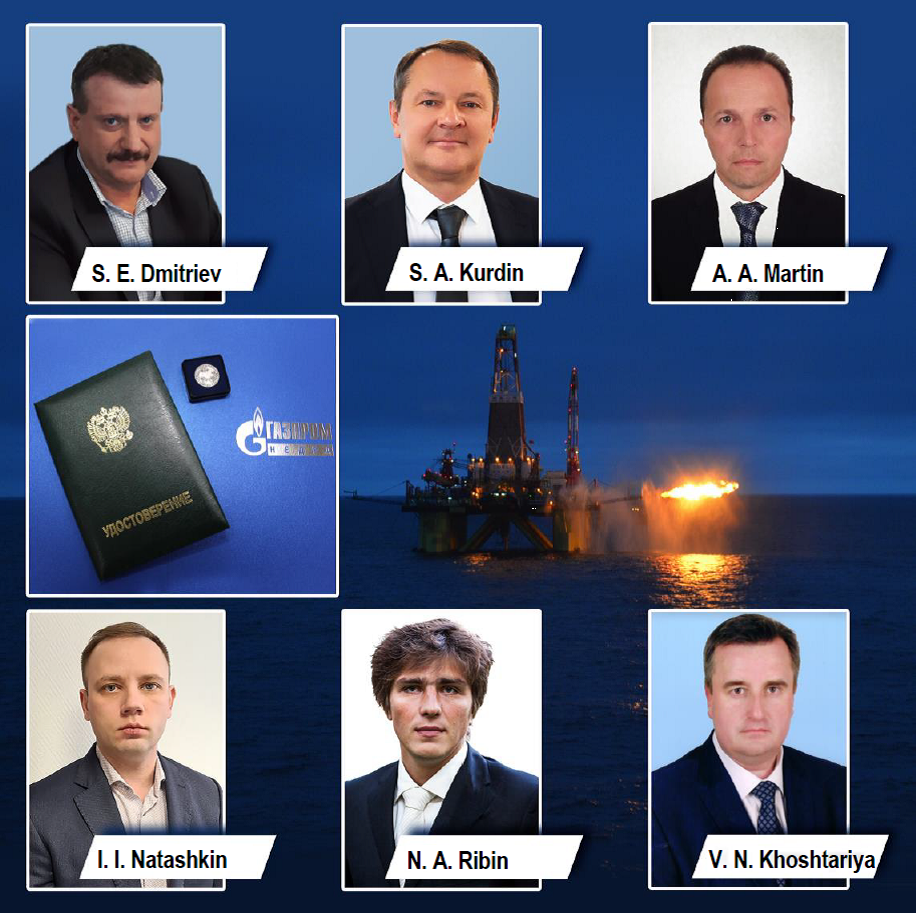 Gazprom Nedra LLC employees awarded with badges Discoverer of Mineral Deposit
"Deposit discovery for a geologist is like conquering the summit for a climber. There may be many of them, but each is a huge event in professional life. Among the employees of our company, there are many who are involved in the discovery of a number of the largest Russian deposits. And we are proud that the list of our colleagues who have officially received the high title of discoverer is growing every year," said Vsevolod Cherepanov, Gazprom Nedra LLC General Director.
Reference

Gazprom Nedra LLC is a 100 % subsidiary company of PAO Gazprom and ranks among the major Russian multi-business oil and gas service companies. In 2019 Company production potential was expanded due to integration of Gazprom Georesurs LLC and Gazprom Geologorazvedka LLC assets.
The Company carries out a complete centrally managed cycle of exploration works in the RF and provides its clients with a wide range of unique geophysical and geoengineering services.
Gazprom Nedra LLC is the main source of Gazprom Group geophysical data in the sphere of raw materials production, reduction of operational expenses and geophysical activities efficiency evaluation, calculation of gas deposit and storage reserves, and environmental safety assurance.
Company subdivisions are located in all gas producing regions of Russia. Its staff totals over 4,500 people. Company administration offices are located in Moscow and Tyumen.
The Company uses a 

quality management system

based on the GOST ISO 9001 standard, a health and safety management system in accordance with ISO45001 and an environmental management system which meets the requirements of the international standard ISO 14001:2015 (GOST R ISO 14001).