PF Privolzhskgazgeofizika
The main task of Gazprom Nedra LLC manufacturing affiliated company (PF) Privolzhskgazgeofizika is to provide a complete set of field geophysical services for Gazprom PJSC following the requirements of international standards.
The affiliate has more than forty years of experience in rendering geophysical services in the Volga Region.
The affiliate provides high-quality borehole and interpretation works using innovative methods and technologies appearing on the geophysical service market.
Affiliate sphere of activities:
1. Field geophysical surveys and work in boreholes:
search-exploration ones being drilled;

operational ones being drilled;

under overhauls;

examination of technical condition of casing strings under abandonment;

determination of GIS quality for casing string reinforcement;

GIS during monitoring of oil and gas fields operation.
2. Springing and blasting:
geophysical support of secondary formation drilling in;

causing inflow by borehole swabbing via pump-compressor tubing.
3. Hydrodynamic borehole survey.
During operation, monitoring boreholes are served by array digital integrated instruments with the use of lubrication units which allow for carrying out works at wellhead pressure up to 65 MPa.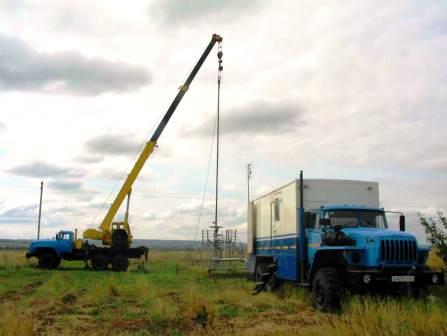 Geophysical survey during underground gas storage operation monitoring
A number of tasks are solved during GIS-monitoring, such as:
determination of formations-reservoirs saturation (including presence of oil-water contact, gas-oil contact);

determination of inflow profile (injectivity);

determination of casing string structural elements, technical condition, location of poor tightness (through tubing inclusive);

determination of hydrodynamic characteristics in borehole (temperature, pressure, borehole filling);

determination of overflows behind casing strings and water breakthrough causes;

interpretation of geophysical data and issue of conclusions with summary tables for all GIS types.
The affiliate includes the following production subdivisions:
geophysical crews GIS-monitoring;

geophysical crews GIS-drilling;

geophysical crews

LWD

;

perforation crews;

swabbing crews;

hydrodynamic borehole survey crew;

monitoring-interpretation crew;

geophysical instruments metrology and repair service.
Complex of geophysical survey of boreholes being drilled (GIRS — drilling) is designed for geological section study to solve the following tasks:
online monitoring of borehole directional and horizontal section drilling, directional drilling navigation, also survey of boreholes geophysical parameters directly during drilling with the use of hardware-methodical complex for logging while drilling АМK-KPB Luch-М-2014;

confirmation of section lithologic and stratigraphic structure and determination of its characteristics for interpretation of field geophysics data;

identification of formations-reservoirs, evaluation of saturation nature, determination of calculation parameters. Geological sections and formations correlation in terms of plot area;

study of boreholes initial technical condition (quality of casing strings cementing, their condition, perforation intervals etc.).
High survey quality is provided owing to the use of digital data recording on up-to-date computer-aided logging stations of KARAT, KEDR-02,05 type.
Complex of survey of boreholes being drilled includes the following types:
Mandatary complex of general GIS methods provided in depth scale 1:500, over the whole section under study:
electrical logging (resistivity logging, spontaneous potential logging);

lateral logging (LL);

radiometric logging (gamma-ray logging, neutron gamma-ray logging);

caliper logging, borehole section gauge logging (CL);

inclination measurement with 5.0, 20.0 m pitch;

gamma-gamma densitometry (GGD);

acoustic logging (АL).
Mandatary (depending on the nature of washing liquid, borehole purpose) complex of detailed GIS surveys in depth scale 1:200 in promising intervals:
electrical logging (resistivity logging, spontaneous potential logging, side-wall resistivity logging, magnetic logging, resistivity, LL, microlaterologging);

radiometric logging (gamma-ray logging, neutron gamma-ray logging);

acoustic logging (АL);

induction logging (IL, induction log sounding);

micro-caliper logging (МCL).
During borehole technical condition study:
acoustic logging (cement bond log, variable density log);

pipe profile logging;

acoustic flaw sizing (diagnostics high resolution);

magnetic — pulse flaw sizing (of technical and operational casing string;

gamma-flaw sizing (cement density log, cement plug).
Springing and blasting:
secondary formation drilling in;

perforation on drilling pipes;

perforation of horizontal boreholes and second boreholes;

emergency works to release trapped tools and separate casing string, and restore circulation. Installation of separation plugs with the use of both blast packers (explosive slip packer) and hydraulic packers (hydraulic slip packer).
hollow-carrier perforators (PKO-50,PKО-73,PKО-89,PKО-102 ТP-NKТ) are successfully used in the affiliate to drill in productive intervals, perforation is also carried out in depression conditions on production tubing.
Online interpretation of field geophysical data and issue of conclusions to the client is provided by digital information presentation directly from borehole via mobile communication 4G—LTE. Quality and validity of field geophysical information is achieved by timely verifications, calibrations and setting of geophysical instruments in Metrology and certification center (Ramenskoye, Moscow Region).
Geological service is established at PF Privolzhskgazgeofizika for field geophysical information processing and interpretation. It includes affiliate deputy head — chief geologist, instrumentation-drilling, instrumentation-monitoring including 8 employees with special higher education. Specialists are regularly trained at refresher courses.
The department is provided with a special-purpose software (PRAIM, SONATA, KAMERTON etc.) and up-to-date computer equipment which allows solving the following main tasks:
lithologic and stratigraphic separation of geological section;

identification of reservoirs along the whole borehole section, evaluation of their collecting properties and saturation nature, determination of geophysical parameters of reservoir formations;

calculation of drilling course based on inclination measurement data, generation of borehole horizontal and vertical planes with issue of tabulated and graphic results;

area-wise reinterpretation of open borehole GIS data with the use of timed TDT, production tubing measurements to support continuously operating models;

plotting correlation schemes;

determination of technical condition of casing strings and space behind them, identification of poor tightness, flaws locations, structural elements;

determination of inflow profile and injectivity.
Contact information
Postal address: P.O.B. 415, Industrial area ESPKhG, Sokursky trakt, Saratov, 410086, Russian Federation.
Теl.:(8452) 307–518; fax: (8452) 306–761
E-mail: office@pggf.ru